Welcome back! Last week, the Tates had a Mouse in the House. It was ugly. If you missed that blog and would like to catch up, click HERE.
This week, I'm going to talk about a doctor I had years ago. I loved this doctor. He was a gem. I could confide in him, and I trusted him. He left for an extended vacation. One day, I scheduled an appointment for a sore throat and was told on the phone he was back. Well, when "John" came into the room, John was now "Jane". Now, mind you, this was in the days when this type of transition was unheard of.
She looked me in the eye and said, "Surprise!". I was flabbergasted. For a moment, I thought there had been a mistake. Was this really my doctor? And then, I looked into her eyes…and there she was. Her true self. She said, "If you don't want me to be your doctor anymore, I understand. No pressure". I said, "I have just one question…can you help me get rid of this rotten sore throat, please?"
I left my appointment, and a few months later had to go back. I walked into the office lobby and it was packed with transgendered people. Packed, as in standing room only. I checked in and walked over to the wall to stand next to someone. I looked at her and said, "WOW…I assume you're here to see my doctor…I can't believe she has this many appointments!". She replied, "Oh, most of us don't have appointments, we are just here hoping there's a last-minute cancellation so we can get in. She's the only transgendered doctor we know of and it's amazing to see someone who understands our needs. You have no idea".
She was right. I had no idea. I switched doctors to open up a space for someone who really needed her experience.
Over the years, I would come to find out how hard it is for people in the LGBTQ+ communities to access health care, and there are many, many reasons for this. I had one transgendered friend say, "I didn't go in for a gynecological exam for 20 years because of the shame I felt around those body parts". Another friend said, "Every time I go into a doctor's office, I feel the disgust. From the person who checks me in, to the actual doctor, their eyes give their disapproval away. It hurts me so badly that I don't even want to go in. I have to be on my last leg to go to the doctor".
All people who need medical care should be able to see their doctor without worrying about being mistreated, harassed, or denied service outright.
On October 6th, of 2020, an article titled "The State of the LGBTQ Community in 2020" was written By Sharita Gruberg, Lindsay Mahowald, and John Halpin. It reads:
"The Center for American Progress, in conjunction with the independent and nonpartisan research group NORC at the University of Chicago, designed one of the most comprehensive surveys to date exploring the lives, attitudes, and experiences of LGBTQ Americans.
Major Findings In The Survey Included:
15 percent of LGBTQ Americans report postponing or avoiding medical treatment due to discrimination, including nearly 3 in 10 transgender individuals.
Transgender individuals faced unique obstacles to accessing health care, including 1 in 3 who had to teach their doctor about transgender individuals in order to receive appropriate care.
Around 3 in 10 LGBTQ Americans faced difficulties last year accessing necessary medical care due to cost issues, including more than half of transgender Americans.
More than 1 in 3 LGBTQ Americans faced discrimination of some kind in the past year, including more than 3 in 5 transgender Americans.
WOW. Those statistics are astounding!
Take a look at this chart they provided: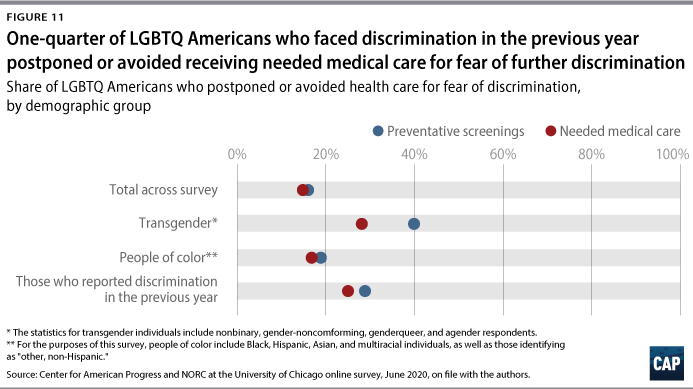 Now, if the above chart isn't disturbing enough, look at this chart and realize that these folks had to teach their doctor about gay, lesbian, or bisexual people in order to get appropriate care. In 2020. Not 1960, or even 1982…2020.
"Had to teach a doctor about gay, lesbian, or bisexual people in order to get appropriate care."
I'm going to ask you to read that again and think about it in terms of your own health care, assuming you are not in the LGBTQ community. Can you imagine going to the doctor and having to explain your body to them?
So How Can We Help?
The Northwest Osteopathic Medical Foundation is committed to promoting equality for all people, and in doing so, we have recently put together a panel of well-respected DO's to explore the needs of the LGBTQ community and how we as a Foundation can be part of the solution.
One way we feel we can help is to create a scholarship or, several scholarships, for medical students who are either in these communities or can be identified as medical students who desire to serve these communities when they graduate. Additionally, we want to encourage more people to pursue medicine who is from this community, so we are creating a scholarship to help support just that. When a medical student graduates with fewer student loans it gives the new DO the ability to strike out on their own, and create clinics in areas that need doctors who specialize in the sometimes unique issues that this group may have.
You may wonder why a medical student would need a student loan. Medical students are no wealthier than the average community college student and there is a false impression that since they are going into medicine, they will be making the bucks, and won't need help knocking down their loans. While it may be true that doctors bring in a good salary, it is often also true that in order to make that salary they must go to work for a large health care system, and have little to no control over their practice.
Working in a clinic, they have much more say about who they serve, what they charge, and how they operate overall. In other words, they can choose to work in an area that is underserved, resulting in a family having to travel 20 miles, instead of 200 to see their family physician, or a person in the LGBTQ community getting to see a doctor who understands their needs, rather than a doctor who needs to be coached by the patient.
I Don't Have Much Money…
Every scholarship dollar we bring in gets us that much closer to our goal. Never underestimate your dollar. Did you know that a consistent donation of $10 a month, goes further than a one-time donation of $100? It's true! We value all of our donors!
If this project sounds like something you can throw your shoulder into, then please see our donation page, and sign up for hope. Sign up for the idea that we are all created equal, and we all deserve quality health care. Your donation says, "I believe in the power of one".
We also understand that your situation may be such that you are struggling just to meet your own needs at this time. You can also help us with this project by sharing this blog. Your one share can expose this information to 37 more potential partners.
If you donated a dollar or a thousand dollars to this project, please share this blog and title it, "I donated…will you?". We know that people often donate to things that their peers support.
One Dollar. One Medical Student. One Osteopathic Doctor. One Clinic.
One Patient at a time.
BELIEVE IN THE POWER OF ONE. WE DO.